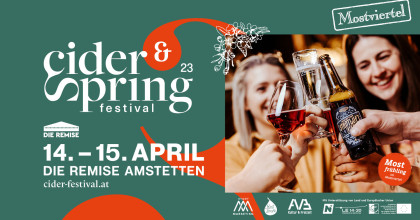 Mostviertel
Cider & Spring Festival 2023
The Cider & Spring Festival is the new, exciting event highlight in Amstetten. On April 14th and 15th, starting at 2:00 p.m., we will welcome spring in the Remise with great enjoyment.
The two-day festival includes a high-quality program with DJ performances and live bands as well as lectures and workshops that are organized by Moststraße as part of the international orchard congress. Here, producers and professionals can connect with consumers, providing a unique, inspiring experience.
We let local cuisine flourish in a young, natural look. Look forward to an event that combines modern ambience and festival flair with a traditional Mostviertler touch. The Cider & Spring Festival will be an unforgettable experience for all visitors!
The organizational team around AVB Kultur & Freizeit GmbH and Stadtmarketing Amstetten in cooperation with Mostviertel Tourismus and Moststraße is looking forward to seeing you!
Share on Facebook
Share on Twitter
Share on Pinterest