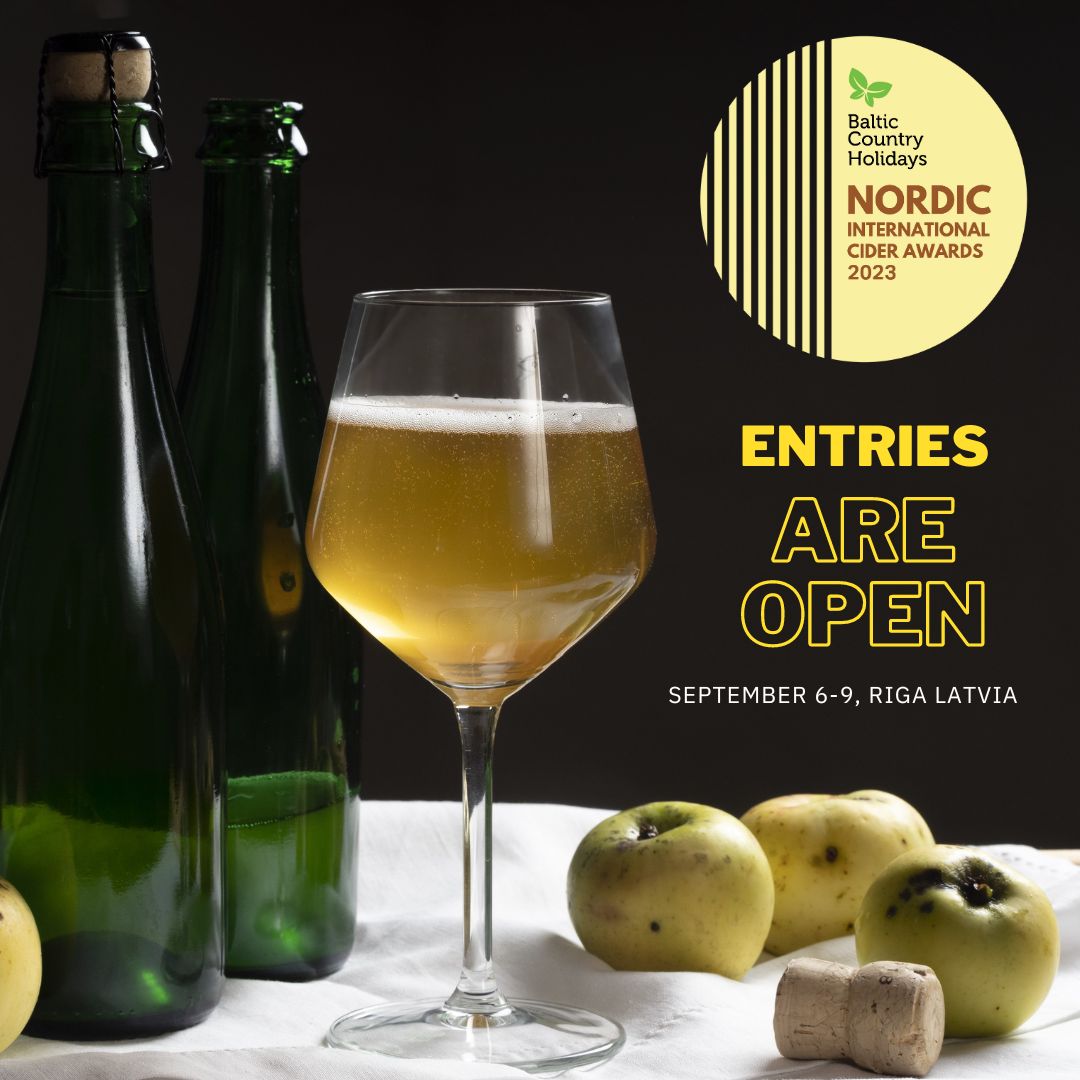 News
Nordic International Cider Awards to Take Place in Riga, Latvia as Part of the Number One Food Fair in the Baltics
The annual Nordic International Cider Awards (NICA) will be held from September 6th to 9th as part of "RigaFood 2023," the largest food industry fair in the Baltic region. Cider production is a new industry in Latvia, but already now Latvian natural cider competes on an equal footing with European, Nordic, and global ciders from countries and regions with long-standing cider-making traditions. By organising the NICA competition in Riga this year, we want to showcase the excellent quality and potential of natural cider to become a national beverage, similar to the Nordic countries where cider is served at state receptions as well as social gatherings.
About the Event
The Nordic and Baltic Cider Awards (NICA) is an annual competition held in one of the Nordic and Baltic countries. This international event celebrates the diverse range of cider traditions, from well-established to emerging and promising ones. In 2022, Bergen, Norway hosted the competition for the first time, attracting over 75 cider makers from 11 nations who showcased more than 200 ciders.
Why in Latvia?
Latvia is a land of apples and a new cider country with strong apple growing traditions and great diversity of high-quality apple varieties. The weather conditions are particularly well suited for making apple cider. It is a natural advantage that has been noticed and is being used by local cider producers with increasing excellence. The smaller producers usually take part in the whole creation cycle themselves by pressing the aromatic and fresh apple juices in autumn and then creating natural craft ciders from them.
Norway has entrusted the organization and hosting of this year's event to Latvia, recognizing it as a new and ambitious player in the cider world. Latvian ciders, with their distinctive Baltic character, have gained recognition as prize winners in international cider competitions.
NICA in Riga
Being held as part of the "Riga Food" fair, the largest international food industry fair in the Baltics, with the participation of 400 companies from 25 countries, the NICA event in Riga aims to promote the participating and winning ciders to the public at large during the Cider Festival on a specialized exhibition stand. The competing Nordic, Baltic, and European ciders will be judged by an international jury consisting of esteemed cider experts from Canada, USA, Spain, Sweden, Finland, Germany, Norway, the UK, Denmark, Estonia, Lithuania, and Latvia. The winners will be announced during the official opening of the "Riga Food" exhibition by Latvia's Minister of Agriculture, Didzis Šmits. The NICA programme will not only offer the competition but also extensive professional networking opportunities and enjoyable socializing, allowing attendees to experience Riga, the capital of Latvia, and some of the Latvian countryside by visiting cideries in regions of Latvia.
For the latest information on the competition programme, registration, participants, and jury, please follow the website https://www.countryholidays.lv/NICA.
Why choose the true apple cider?
It is important to be able to distinguish high-quality ciders made from fresh juice from products that are made using concentrate, sugar, water and artificial flavourings. Genuine ciders will offer an authentic connection to a particular place, producer and story. Events like NICA bring cider makers from all over the world together to promote the exceptional qualities and taste of natural cider, as well as to attract new cider enthusiasts.
Organizers and Contacts
The event is organized by the Latvian Country Tourism Association in collaboration with Latvian cider makers and the Latvian Association of Winemakers and Winegrowers, Norwegian Rural tourism and local food organization HANEN, CiderWorld Germany.
Financially supported by the Ministry of Agriculture and Latvian Tourism Board.
Share on Facebook
Share on Twitter
Share on Pinterest