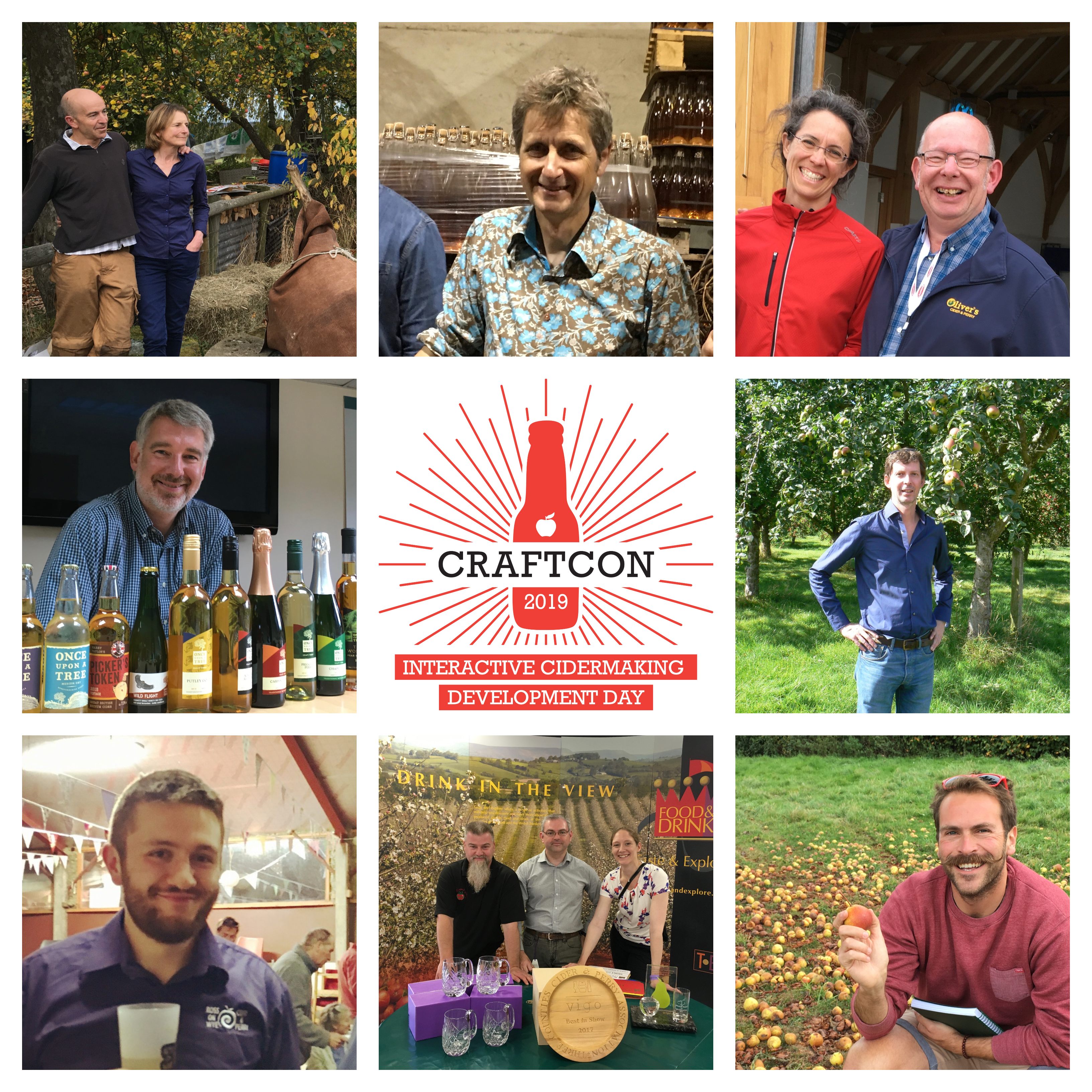 Hereford
Cider Heartland To Host Sell-Out Craft Cidermaking Conference
With over three weeks to go, CraftCon 2019 has sold out! Representatives from over 65 cideries will gather at Pershore College in Worcestershire on 5 April for a hands-on conference dedicated to the art and skill of craft cidermaking.
Organised by the Three Counties Cider & Perry Association, "This day is all about taking cider to the next level," says James Forbes, chair of the TCCPA. "People are only just reawakening to the realisation that cider and perry have great value. We want to share the skills honed in this region and further afield which can take cider into the premium sector that it used to occupy."
The programme kicks off with cider rock star Tom Oliver, Oliver's Cider & Perry, sharing his secrets on crafting award winning blends, and continues with such legends of the UK cider world as Simon Day, founder of Once Upon A Tree, 2012 BBC Food & Farming Drinks Producer of the Year, James Marsden of Gregg's Pit, one of the country's leading perry makers, and from further afield, Martin Berkeley of Pilton Cider, the UK's leading exponent of the tricky art of keeving.
Perry comes under the spotlight courtesy of Bartestree Cider's Dave Matthews. Lunch-time includes a grafting workshop courtesy of Tom Tibbits of boutique cidery Artistraw, and a chance to have ciders analysed in a one-to-one session with the leading cidermakers present.
The day concludes with the cider director of The Academy of Beer & Cider, Gabe Cook, known to many from his appearances on Sunday Brunch, leading a panel looking at the future of the UK cider industry. He will be joined by the nation's first accredited Pommelier, Jane Peyton, and Simon Wright, founder of London's first urban cidery Hawkes.
The evening, courtesy of headline sponsor Core Equipment, sees the opportunity for more networking and learning with a Cider Social.
Despite facing challenging market conditions, craft cider is a sector in growth as consumers' interest in drinks with true provenance continues to grow. "There's never been a better time to be a craft cidermaker," says Forbes, co-founder of Little Pomona Orchard & Cidery. Increased access to great apples in the West Country as long-term orchardists come out of contract to major cider producers is coinciding with a resurgence of interest in all things fermented, whether it's sour dough, artisan cheese, natural wine or craft beer.
Forbes hopes this conference will become an exciting, useful date in the calendar for the growing number of craft cidermakers. "Part of our remit is education," he says. "We want to bring everyone together to share ideas in the hope that we can all make better cider." The conference is being generously supported by key suppliers to the cider industry, Bruni Erben, Vigo Ltd, Vitikit and Rawlings, along with the Cider Social sponsor, Core Equipment. Additional support has also been received from FlavorActiV and Biopac. A limited number of media places are available. For further information, to request images or to apply for a media place, please contact: Susanna Forbes, susanna@littlepomona.com
Further information available at the TCCPA's website.
www.thethreecountiesciderandperryassociation.com
t: TCCPAOfficial • facebook • instagram: 3CCPA
Notes to Editors:
1. With over 130 members, the Three Counties Cider & Perry Association is among the largest regional grouping of cidermakers in the UK. Its membership extends beyond the borders of Herefordshire, Worcestershire and Gloucestershire, and is open to cider makers large and small and others with an interest in the cider world. Its remit centres around supporting the interests of cider and perrymakers via several means, incuding that of education and training.
2. Part of the seven-strong Warwickshire College Group, PERSHORE COLLEGE: opened in 1954 as a specialist horticulture college. Farm diversification and adding value to farm products is at the core of its curriculum, with apple juice and cider two of the products marketed under the Pershore College brand. Supporting local business is key and the College's JUICE facility offers small batch contract bottling, ideal for the small to medium sized producer and those targeting new product development. https://wcg.ac.uk/page/96/pershore-college

CraftCon 2019 is brought to you with the help of the following sponsors
CORE EQUIPMENT is a supplier of innovative cider and juice production equipment to UK cider producers. Providing everything from pumps to presses, from carbonators to canning machines, all is built with the cider producer in mind. Its teams ensure that every piece of equipment installed arrives on-time, in perfect condition, and that the installation goes ahead seamlessly. With a high standard of after-sales service, Core Equipment ensures the immaculate maintenance of the machine into the future. www.core-equip.com
BRUNI ERBEN has been a leading supplier of closures, glass and machinery for the entire drinks and food industry since 1951. The company provides technical support for packaging as well as a wide range of innovative products. Alongside tailored guidance, Laffort, part of the Bruni Erben family, supplies yeasts, enzymes and fining agents. www.erben.co.uk
For 35 years VIGO LTD has supplied cider and perry makers with carefully selected processing and packaging equipment from renowned manufacturers. The range includes everything required for pressing, bottling, kegging, bag-in box packing, and canning, backed up by multi-skilled engineers, plus test kits and consumables. www.vigoltd.com
RAWLINGS is a leading, independent packaging specialist, supplying bottles and decoration of all types to the UK cider industry. With an extensive range of cider bottles Rawlings is renowned for its expertise in delivering bespoke solutions. www.rawlingsbristol.co.uk
Based in Exeter, VITIKIT LTD began in 2014 and specialises in the supply of equipment and consumables for the craft cider industry. Supply and installation of machines cover all steps of the cider making process, from fruit processing and pressing, through to pasteurisation and kegging. www.vitikit.com
BIOPAC is a leading supplier of eco-friendly food and drink packaging, including an extensive range of biodegradable packaging. www.biopac.co.uk
FLAVORACTIV is the global leader in the provision of flavour standards and trains and monitors professional sensory panels in the drinks industry. www.flavoractiv.com

Share on Facebook
Share on Twitter
Share on Pinterest